Gam, Gallery of Modern Art, Turin
From 14 March to 12 July 2015
[box type="shadow" ]"‎When I know your soul, I will paint your eyes". A. Modigliani.
"We forgive – post mortem- the extravagance and immorality of artist because they are extraordinary people, from a different human species" (Jeanne Modigliani in "Modigliani, my father" – Abscondita editions).[/box]
The GAM of Turin dedicates an exhibition to Monparnasse Prince, "Modigliani and the Parisian Bohème". The artist is celebrated with about 90 works, 60 of this are masterpieces highly recommended by the curator Jean-Michel Bouhours, on loan by Musée National d'Art Moderne-Centre Pompidou and the others come from important private and public European collections, all showing the creative passion of that period. Enchanting portraits of lovers, friends and merchants, together with drawings and sculptures present the extravagant and dandy artist Amedeo Modiglian. The first work shown is Head of Red hair Woman, supreme synthesis of the famous "Modigliani Style".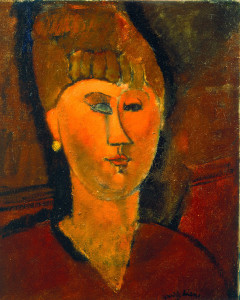 Modigliani nonetheless found favor with his maestro Micheli (educated by Giovanni Fattori), who referred to him as "Superman", a pet name reflecting the fact that Modigliani was not only quite adept at his art, but also that he regularly quoted from Nietzsche's "Thus Spoke Zarathustra".
He born in Livorno, attended first the Academy of Art in Florence than in Venice: here he discovered the French art and the impressionism world and dedicated himself to sculpture.
At the beginning of XX Century Paris was a multicultural and polyglot city, having a blazing era: trends, costumes and different movements, they born and fade in a flash. Amedeo Modigliani (1884-1921 ) was born in a Jewish family, suffered tuberculosis during his childhood, and hold his live to Paris from 1906: first he settled in Montmartre then in Montparnase. A tormented life: he was found during the dawn, collapsed in a Montmartre street, drunk on wine.
For sure he would not stop drinking, in the same way he would not stop painting, with his passion and fury, like who does not want to loose time. That's why Modigliani started to be the romanticize character Modì, with a licentious life, perfect embody of romanticism, damned heroes that dissipates everything. Defined by expressive portraits, where sensual women has a long neck, full of beauty, the women that he wants to show not by their body but in their soul.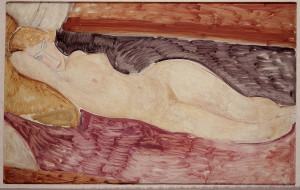 Shy and impossible, reserved with improvise flares up, tormented by his work, incapable to communicate with merchants and with a life of a tramp, always searching for a place to crash, these are the factor that influenced his paranoid state of mind, the emotion that nourish his art.
The patron Paul Alexandre believed in him and presented the artist to the parisian artistic world: the Polish poet Léopold Zborowski encouraged Modigliani too and sponsored an exhibition for him in 1917 at the Gallerie Berthe Weil.
Modì has some trouble with the police chief of Paris for his works "Reclining Nude". They created scandal, clamor, nobody bought the paintings and he was forced to shut down the exhibition after few hours from the opening.
The exhibition is divided into five sections. The first one is dedicated to his personal style in portraits, with works depicting friends, artists, lovers and merchants, like Jeanne Hébuterne, Portrait of Soutine, Young boy with Red Hair or portraits of Andrè Derain and the Italian painter Giovanni Fattori.
The second section is dedicated to sculpture and Amedeo's masterpieces. There are shown also some wonderful works of Constantin Brancusi, the great sculpture that opened his atelier to Modigliani and taught him how to shape curves and harmonic anatomic shapes like in his Princess X, interpreted by Brancusi like a votive penis and Mademoiselle Pogany III looking like two heads talking to each other, with eyes without pupils, inspired by Oceanic and African art.
The Parisian Boheme, artists hanging out in cafè or bordello are displayed in the third section with works of Chaim Soutine, a painting of Marc Chagall, two landscapes of Maurice Utrillo, alongside with other famous artists at that time.
Cubism is the theme of the fourth exhibition dedicated area, displaying works of Gino Severini, Pablo Picasso, Juan Gris, Louis Marcoussis e Léopold Survage.
The closing section is entitle "New Humanism in Paris School" and offer to visitors the charming Portrait of Dédie, side by side with some gorgeous paintings of Marc Chagall, Max Jacob, Sonia Delaunay e Susanne Valadon.