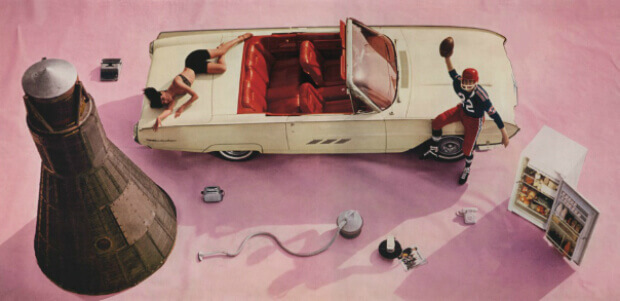 Tate Modern, London
Untill 26th of May 2014
We can refer to him like "The Father of Pop Art" but Richard Hamilton (1922-2011) was more than that. He was an artist "deeply enthusiastic about his time". He designed legendary situations like he did in "Swingeing London 67", it was an answer to the trial and imprisonment of Mick Jagger, lead singer of the group Rolling Stones, and Hamilton's dealer Robert Fraser; Hamilton displayed the fact on a silkscreen of acrylic on canvas, showing Mick Jagger handcuffed together with Robert Fraser and seen through the window of a police van, arrested and charged with being in possession of illegal drugs. Through a foreground of the cuffs and an artistic fading visual effect he managed to underlie the rough reality of the moment. The core of the exhibition is one of the most "pop" and popular installations, "Fun House", where Hamilton combines images taken from movie posters with the fragments of magazines and art works; he wants to denounce the growing invasion of TV sets and mobile phone in our living room, the mass marketing that manipulate our minds, the one the he called "the great visual matrix surrounding us".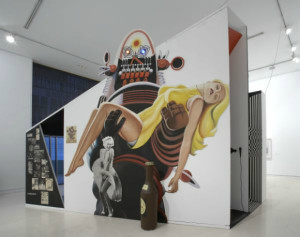 The first progresses in art and design of the twentieth-century have a great influence and act like an inspiration for Hamilton: from the radical theories and experiments of Marcel Duchamp and Picabia to the innovative techniques in the architecture field from Bauhaus and Le Corbusier.
During the second world war, he studied technical design and used this knowledge for his future works of collages of different materials. After the war, his passion for new artistic design and technology lead him to seek new design and visual communication techniques in order to create a brand new artistic genres, innovative for paintings, drawings, photography and cinema.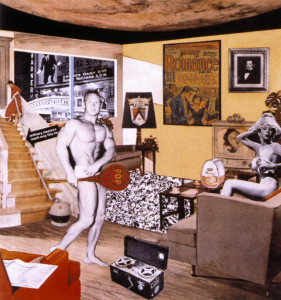 It's reducing to refer to Richard Hamilton just like a founder of Pop Art; he has a high level artistic path of creativity that lasted 60 years. Hamilton, of course, is the prophet of the Pop Art but also a political figure; he realized diptyches about Northern Ireland "dilemma". In the diptych painting The citizen (1981-83) he depicts a republican detainee; in The subject (1988-90) he represents a parading loyalist marching in a protest and in The State (1993) he shows a British soldier on patrol. Eclectic and sharp observer, he studied photography and computer arts and was one of the first who, suggesting new interpretation models, introduced new technical skills for an innovative world of design, television and paintings; his creative use of different kind of languages let him win the epithet of "Daddy" of Pop Art.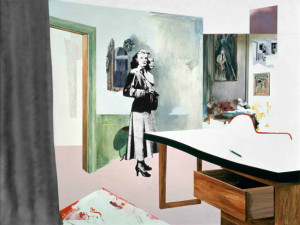 The first part of the exhibition is about Hamilton works before the innovation of Pop Art. This new beginning starts in 1956 with the collage Just what is it that makes today's home's so different, so appealing? mixing together pictures of movie actors, posters, magazines and art history. It is considered the really fist icon of Pop Art. From 1957 and 1963, the artist dedicated himself to a different type of works, bonded by a common denominator: combining new techniques, materials and subjects. Plastic, aluminum and paper blend together on canvas, along with diagrams, imaginary symbols, collages and reliefs. In 1964, Richard focused his attention on the interior world, creating a series of collages about eclectic interior areas such as in The Painting Desk, Interiors I e II.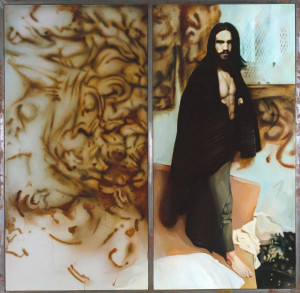 Interesting are also the diptyches called "dirty protester". Emblematic is the portraits of the Labour member Hugh Gaitskell of the 1963, represented as the Filmland monster, after he denied the anti-nuclear campaign. Hamilton continues to mock the people involved in the protest, an example of this is the installation Treatment Room where an image of Margaret Thatcher appeared on a TV screen speaking towards an empty hospital bed or as in the later portraits of Tony Blair (2010) presented as a diabolic cow boy with a dumb expression. A premier criticized for pretending to be a leader of the war.
From 1964 to 1979, the artist analyzed in depth his passion for design, architecture and products. He created works dedicated to the Braun and Guggenheim Museum brands. At the same time, Hamilton designed object for his own brand: Richard.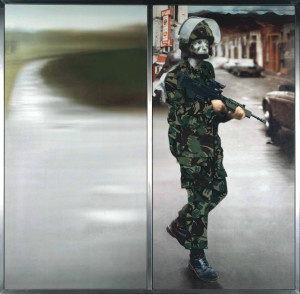 The exhibition also displays Polaroid and Portraits: a series of pictures of Hamilton in various situations, taken from famous artists, friends of him: Francis Bacon, Andy Warhol, Roy Lichtestein, Yoko Ono, John Lennon, Paul e Linda McCartney, Christo, Bob Irwin, Henry Cartier Bresson, Gerard Richter, Jasper Johns. Not be missed are his portraits or the series of works dedicated to big celebrities like Marilyn Monroe and Big Crosby.
Richard Hamilton, born in London in 1922, studied at the Royal Academy School and the Slade School of Art and taught at the Central School of Arts and Crafts of London and the Newcastle upon Tyne University. He was invited to Biennale of Venice in 1993 as an exponent of the British art and his works are displayed in the most famous private and public art collections. The London retrospective at the Tate Modern consist of a peculiar exploration of Hamilton works from fifties to his death.