The Paul J. Sachs Drawings Galleries, MoMA,New York
Until September 1st 2014
The MoMA announces an exhibition of the new works of Jasper Johns, a leading voice in American art of the late-1950s with paintings of iconic motifs such as flags, targets, and numbers. His works has an extraordinary narrative complexity and technical virtuosity. This premiere displays the latest artist's works, about 30 objects, series of paintings, drawings, and prints.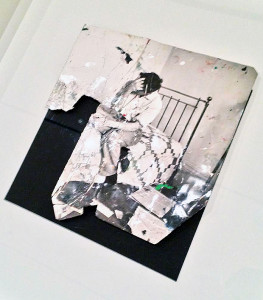 Mr. Johns was inspired by a photograph picturing the young artist Lucian Freud roost on a brass bed in the corner of a room with filthy walls. An arm used to hidden his face in a introspective gesture, bending head and shoulders that suggest a exhaustion, desperation. It could be a crying. The dramatic depiction is helped also by the poor quality of the film.
This picture belongs to a series of the English photographer John Deakin works of 1964 and inspired the following paintings of Francis Bacon. Johns absorbed and use as an inspiration for his works not only Freud's picture but also the damaged black and white original print of Bacon, folded and stained by paint. A missing part of the original, for example, has a relevant role for the idea of the series, creating a dark and dominant spot in the foreground. The two paintings is called Regrets. The title was taken from a Johns rubber stamp he had made several years ago, used in the paintings like a title and a signature.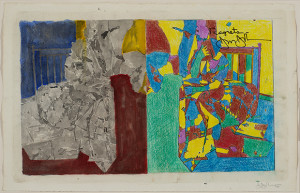 The Freud photograph, after several pencil sketches, is presented in four drawings, ink on plastic, and two stamps, each one with its preparation steps. The wide watercolor obfuscates the image in an abstraction way, exploring the theme of an chromatic attack. This series reveal the importance of the experimental process and the constant interaction between materials, the meaning and the peculiar representation of the John's career in the latest 60 years.
Picture licensed by MoMA