Madama Palace, Turin
Until 5th of October 2014
The event shows the charming live path of one of the most multifaceted personality of the last Century, accompanying the visitors towards a constant changing of languages and techniques that made her originality something not yet comparable in the field of photography. Tina Modotti, photographer, actress, muse of artists and poets, political activist. The event tells all her life in each aspects.
The exhibition, supported by Turin Council, is born by a collaboration between Turin Museums Foundation, the Cultural Association Cinema Zero and the publisher Silvana Editoriale.
Tina Modotti, was born in Udine in 1896, and in order to reach his immigrant father in San Francisco, make a trip alone, at the age of seventeen, across the Atlantic Ocean. After a period of work as an actress of theatre and cinema in California, she was choose as a model, thanks for her extraordinary beauty, by the Hollywood photographer Edward Weston, famous for nudes and provocative poses. She started to act as a protagonist in some silent films, leaving apart her passion, the photography. Then she dedicated herself to the political activism. She was committed to communism. For political reasons she moves to a post- revolution Mexico, during the Twenties.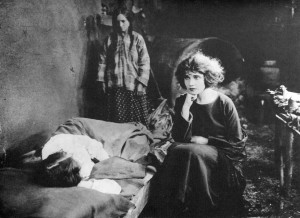 The first shots she made was about dead nature, made of glasses of wine or flowers and photographs of architectures and popular arts. During the Mexican period she focused her attention on people, depicting the emotive dimensions and then got more interested in political and social field: demonstrations, portraits of women and farmers, hammer and sickle, cartridge belt, political symbols.
A series of "advertising" shots made by her friends shows Tina as a woman, instead, Modotti's photographs – from the first years "still life" to the more committed ones – are a proof of the artist capacity. Thanks also to friendships with painters like strong>David Alfaro Siqueiros, Diego Rivera e Frida Kahlo (in exhibition in Rome, , vai all'articolo) she became a more passionate activist and a photographer for the Mexican Communist Party.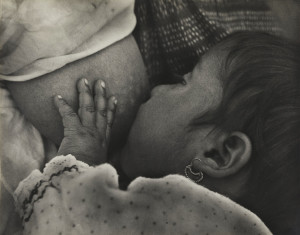 "I always, when words like "art" and "artistic" are referred to my photographic work, must disagree.. I consider myself a simple photographer, nothing more. The fact that distinguish my work from the others is that I try not to produce art, but honest photographs, without any distortion or manipulations." (Tina Modotti, About Photography)
The one hundred pics reveal the deep sensibility and attention of Tina Modotti, one of the most famous woman photographer in the world. Among the most intense photographs are Julio Antonio Mella on a dyeing bed and Child drinking milk, the popular shot of Marcia di Campesinos or The woman of Tehuantepec . A work always pondered and meditated, with deep black and white, but at the same time full of intense tonalities, where a carnal density flows out from a contrast between lights and dark.
Wonderful shots, that Modotti never liked, in a constant fight between different solutions, documented by her letters, displays in the exhibition, to Weston, teacher and lover for long artistic path.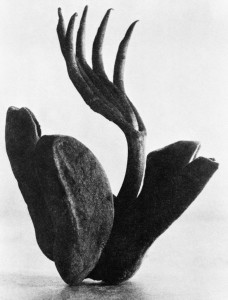 Stadium and Tank n. 1 are perfect examples of volumes, exaggerated in their perspectives, in contrast with the fine lines of dead nature as in El Manito or Calle, where lights and dark gives vitality to the still life. To understand perfectly the entire view of the artist, there are a series of her portraits made by her lover Edward Weston, where the explosive strength of Modotti's body is depicted perfectly thanks to the complicity and the precise idea of "doing photograph"; we can appreciate it in Tina acting (1924) and The White Iris (1921), where is predominant a spontaneity from the both side of the lens.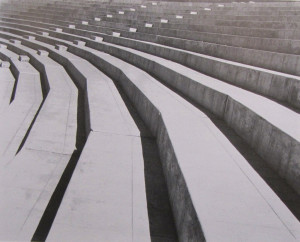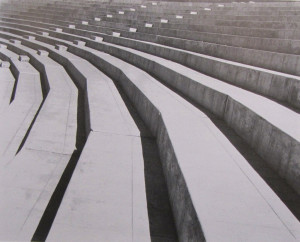 The artist wrote in 1929 to Weston, sending him a package of shots for the Berkeley Art Museum: "Dear Edward – sometimes I fell like would be more honest by me to renounce to all my demands and photography, outside the pure commercial works. However it would be a sacrifice from me and only the idea hurts me, so I continue despites the results doesn't please me".
While Modotti's works was exhibit in event from New York to Cambridge, she continued to live in humble conditions. She continued to fight for the Communist cause until she was captured by Franco's force in Madrid and decided to return in America. Unfortunately she wasn't allow to unload, so she returned back in Mexico under a false name and were find died in a taxi, in 1942 at the age of 46. A mysterious death, where the thesis of an heart attack walks along with the one about poisoning.
Today we remember her in intense portraits, as a young woman with a cartridge in her hands. But most of all we remember her photographs and her friend Pablo Neruda words, engraves on her tombstone: "Tina Modotti, my sister, you don't sleep, no, you don'y sleep: maybe your heart fells the yesterday rose growing, the last yesterday rose, the new rose. Softly rest in peace, sister".
Link: palazzomadamatorino.it