Sciarra Palace- Roma Museum Foundation
From November 11th to February 8th
[box type="shadow" ] The entire collection of original covers of the magazine "The Saturday Evening Post " (323),all created by the geniality of the American artist Norman Rockwell, are shown, for the first time in Italy, at the Sciarra Palace in Rome, along with 100 drawings, documents and pictures. [/box]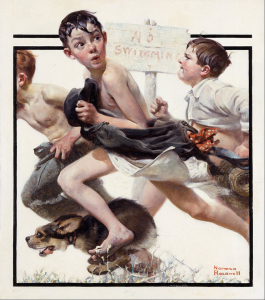 The American painter and illustrator Norman Percevel Rockwell (1894-1978) is really famous in the United States thanks to his art-boards depicting Americans ordinary life. Watching at them is like getting immerged into that world, they arrived to hearths before to minds. He immortalized dreams, hopes, ideals, inspiring attitudes and suggesting a new way of thinking for the XX century Americans.
Born in New York, Rockwell has always preferred landscapes of countryside and little towns to the gigantic metropolis. The core of American family, with its little satisfactions and victories, triumphs over that insipid world. A scrupulous and, at the same time, soft realism has characterized and make unique Rockwell's style: an utopian world with matching colours, illustrated by scenes in a photographic cuts, inspired by movies protagonist such as Frank Capra or comics like Walt Disney.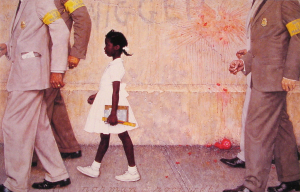 Rockwell creations are like open windows showing old American style of living, in witch the artist plays to immerge himself, exploring, mirroring o just having fun like a kid: they are not just illustrations but family pictures with a sense of intimacy and trust, revealing the surrounding world.
He let equilibrium flows, a balance within pictures and drawings, telling a hall story in one photogram. For that reason in easy to immagine that some of Rockwell's works collectors are Hollywood stars like Steven Spielberg and George Lucas.
The drawings about this particular 1900s, deeply express positivism, the characters give a sense of comfort, optimism and enthusiasm. With Rockwell, the analysis of the real life, creates at the same time, drawing and history; the story about American dream that crosses the States. The artist immortalizes moments of
lightness and joy, express by a kid running away from a naughtiness like in No swimming, and the drama of the apartheid, like in the allegoric The problem we all live with, where an Afro-American kid is escorted to school.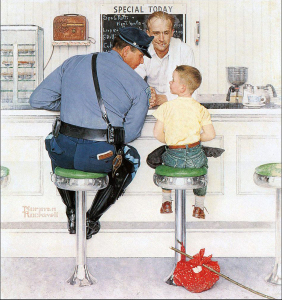 For the first time in Italy, the artist's personale shows the work not of a simply artist but of one of the most acute observer of American society. A retrospective about the artistic path of Norman Rockwell who makes available his art for his dreamed American history. The American way of lice, its characters and episodes; from the national pride to the racism drama; the love for Art and Drawing.
The Roma Museum Foundation- Sciarra Palace presents American Chronicles: the Art of Norman Rockwell, curated by Stephanie Plunkett (Chief Curator of Norman Rockwell Museum) and Danilo Eccher (Director of Turin GAM). The exhibition is supported by Roma Foundation, organized by Norman Rockwell Museum of Stockbridge, Massachusetts in collaboration with Roma- Arte- Musei Foundation, NY Foundation and with the superintendence of the Historic Artistic and Anthropologic Heritage and Museum Centre of Rome.