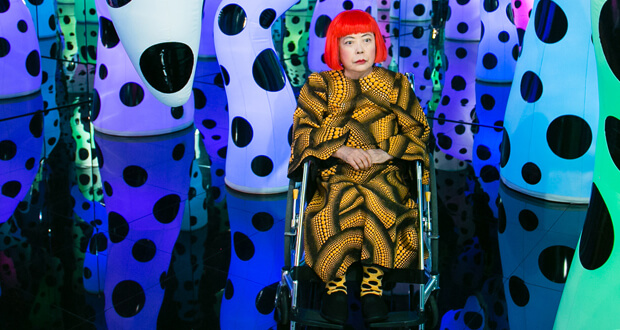 David Zwirner Gallery – New York
Chelsea, West 19th Street
8 November – 21 December 2013
The incredible exhibition from the eccentric artist Yayoi Kusama called  "I Who Have Arrived In Heaven," opened at David Zwirner Gallery in New Yor this month. Houndred of LED multi-colored lights  hang at different heights with the resulting effect of envelope the viewers in a sea that's devoid of time and place.  The exhibition rooms are surronded by wall-to-wall mirrors and visitors can walk dizzy through and Infinite field of sparkling stars and organic forms. The mirror room has cubic walls and a pool as floor, the rapid changing of lights create a stroboscopic effect.  This psychedelic art installation provides a surreal and fantastical experience.
Named I Who Have Arrived In Heaven the exhibition is composted of two specular rooms, a video installation and 30 new large-scale paintings.
In Love is Calling, a dark mirrored room is lit up by inflatable, tentacle-like forms and dots that extend from the floor and ceiling, gradually changing colors. This exposure not only is a visual experience but also an auditory one, a sound recording of Kusama reciting a love poem in Japanese plays continuously.
This installation was shown in Tokyo earlier this year but it 's the very first time it's been shown in New York.
Surrealism, Minimalism, Pop Art, the Zero and Nul movements. This eccentric  feminist artist resists any singular classification, using paintings, drawings, collages, sculptures, performances, movies, etchings, installations, and environmental art as much as literature, fastion and design.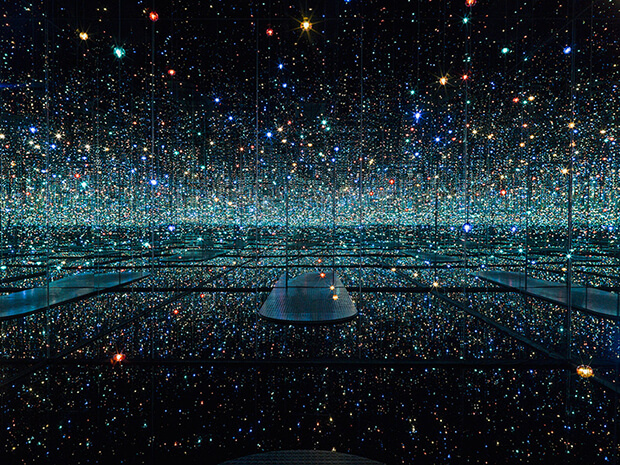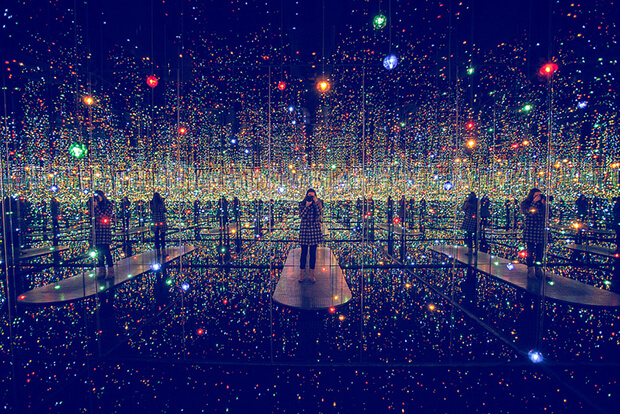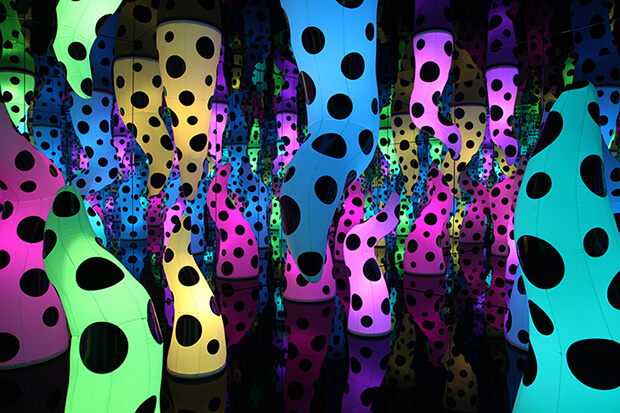 Link: davidzwirner.comDavid Zwirner Gallery – New York
Chelsea, West 19th Street