Martinengo Palace- Brescia
January 24 – June 14, 2015
[box type="shadow" ] The best of Italian food mastery illustrated in a chronological exhibition path will present you the peculiar foods and dishes who great artists from XVII to XX Century depicted in their paintings, illustrating the typical food culture of their native countries.[/box]
The wine and food tradition mixed with the Italian artistic culture creates a majestic event to celebrate and illustrate the connection that has always been between food and visual art. The exhibition is named: "The food in the world of art. Masterpieces of the great masters from the Seventeenth Century to Warhol." The event will show how painters between the seventeenth and the nineteenth centuries used to paint food and typical dishes of their land of origin. You can discover dishes and food that today have completely disappeared.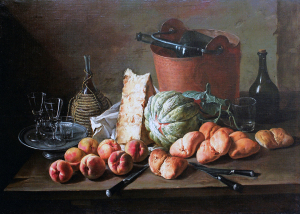 A rich menu presents, in ten sections , over 100 masterpieces, some of them never shown before. You can admire prestigious works like Ricotta eaters of Vincenzo Campi, strong>Whipped cream photograph by David Lachapelle, Fish dish of Ambrogio Figino, Table with peaches  of Giacomo Ceruti called Pitocchetto (never shown before in public), Table with watermelons of pointillist Emilio Longoni and the Last supper of Andy Warhol, the acrylic painting that interprets in a Pop Art key the famous Last supper of Leonardo.
Also, Lucio Fontana's red and cut egg, Piero Manzoni, Daniel Spoerri's table with food glued on it, René Magritte, Giuseppe Recco, Roy Lichtenstein, Giacomo Liegi, Filippo de Pisis, Renato Guttuso, Giorgio de Chirico, Evaristo Baschenis,; an involving dialogue between classic and contemporary painters. Each artist with his own personal style telling their relationship with food in the typical singularity of every work of art.
– Food and Art together offer rich didactic elements and sparks. The Cultural Association Friends of Martinengo Palace created a series of educational laboratories, for a multi-sensorial experience consisting in a discover, in a non conventional way, the taste, smell, color and consistencies of food. Also you can realize an artistic work through the same path of the artist, with materials like pasta, dry fruits, legumes, rice and so on.-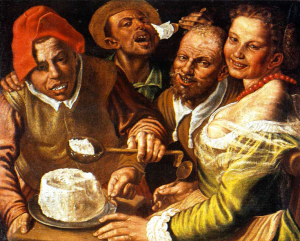 Ten thematic sections that form a trail of taste, even only visually, of all food, from fruit to meat, passing through cheeses, deserts and wine: the five senses allegory, markets and kitchens, fruits, vegetables, fishes and shellfishes, dog and bird game, meat salami and cheese, sweets, wine and liqueurs, dressed tables, food in the XX Century art.
Moreover, thanks to the collaboration with some of the most rewarded departments of food science of the Italian universities, you will also be able to learn valuable information on the foods and the taste of that time. The exhibition is promoted by the Association Friends of Martinengo Palace, city of Brescia, Lombardy region and EXPO 2015. The curator is Davide Dotti supported by an international scientific committee. The catalogue of he exhibition from Silvana Editoriale will be available and contain historical- critical essays and an article from the chef Massimo Bottura.
Hours: Wednesday to Friday: from 9.00 to 18.00 ; saturday, sunday and holidays: from 10.00 to 20.00 Monday and Tuesday closed
Ticket audio tour included: €10 whole price; €8 reduced ticket reduced for schools: €5
Contacts: mobile phone +39 3398384933
land phone +39 0305785122
e-mail mostre@amicimartinengo.it
website www.mostraciboarte.it