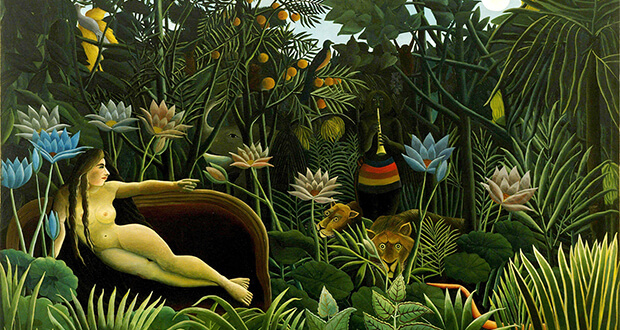 Palazzo Ducale – Doge's Apartment, Venice
March 6 – July 5, 2015
"Nothing makes me so happy as to observe nature and to paint what I see. " – Henri Rousseau
The famous painter named Douanier (Customs officer), is celebrated into the sumptuous Doge's Apartment in Venice with the exhibition Archaic candour .
You can admire 41 paintings presenting the brief but intense artistic experience of Henri Rousseau (Laval 1844 – Paris 1910), in a new light washed by the years of hostile critics.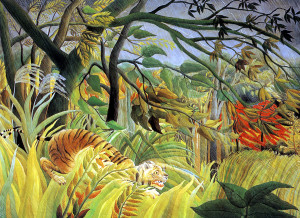 The eccentricity of the event emerges from the comparison between the unique Rousseau artistic masterpieces and his friends, the group of artist who lived with him in Paris.
He was there, in the French capital, that he become a reference model for the avant-garde for the 900s historical and artistic movements, inspiring Frida Kahlo , Pablo Picasso who bought Portrait of a woman, strong> Vasilij Kandinsij and Robert Delaunay, Giorgio Morandi and  Carlo Carrà.
This "archaic candour" stands out in particular in his painting of savage nature and jungles: from dall'The Snake Charmer to Jaguar Attacking a Horse.
Not to mention the wonderful landscape of little towns and cities, the still life and the surprising portraits of men, women and relatives that highlight the capacity of Rousseau to tell us thought his brushes the life of the little middle class.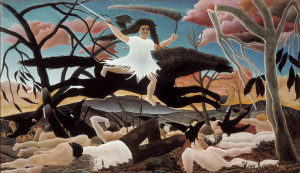 The hermetic but solid personality of the Douanier spreads out in a limpid and prodigious suggestive and unpredictable charm. Jungles, dreamlike atmosphere and bucolic sets testify the powerful creativity of the artist who presents us realism with elegance and magic, with a enchanted and new look .
Venice hosts some of his masterpieces, starting with Self Portrait and The Poultry Yard, bought by the Russian painter Kandinsky and shown at the first exhibition Blaue Reiter in Munich, or War, or Discord on Horseback.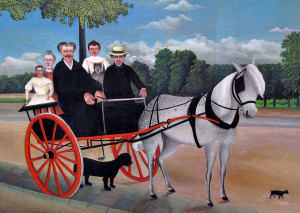 Rousseau's artistic season, from 1886 to 1910, influenced also the intellectual world like with Apollinaire and Jarry; was appreciated by famous collectors like Wilhelm Uhde and by great painters belonging to futurism and cubism wave: from Cézanne to Gauguin, from Redon to Seurat, from Marc to Klee, and Diego Rivera, Kandinsky and Picasso.
The exhibition is organized by the Fondazione Musei Civici di Venezia<s/trong> with the special collaboration of the Musée d'Orsay and Musée de l'Orangerie in Paris, under the auspices of the Soprintendenza per i Beni Architettonici e Paesaggistici di Venezia e Laguna and produced by 24 ORE Cultura – Gruppo 24 ORE.