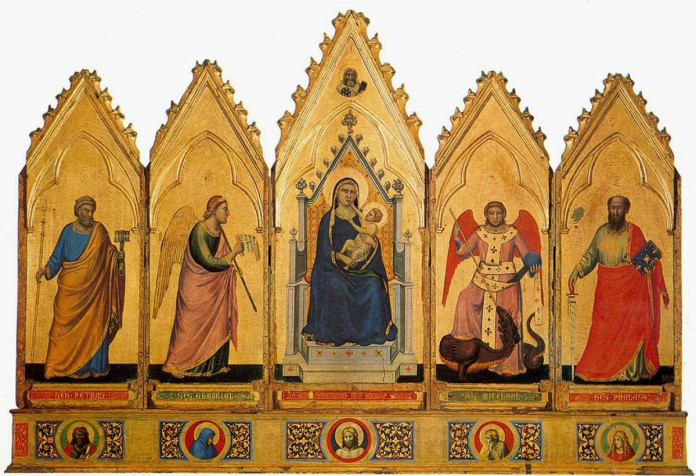 Palazzo Reale, Milan – Italy
Till 6 January 2016
"Credette Cimabue nella pintura tener lo campo, e ora ha Giotto il grido, si che la fama di colui è scura." – Dante Alighieri
Cosmopolitan crowd of the visitors to Expo can admire the masterpieces of the Florentine artist in the exhibition "Giotto, l'Italia".
The organizers intend to rightly highlight the irrepressible and revolutionary figure of the painter, undisputed genius of the fourteenth century's art.
None of the 13 works, mostly on wood, was exhibited in Milan before: masterpieces the were never assembled in a single exposure. In about forty years of extraordinary activity Giotto through Italy of his time, strongly influencing schools and local artists with his innovative style, signing the Italian figurative language.
Giotto in Florence and Padua
The exhibition starts with the youthful works: the fragment of the Majesty of the Virgin brought from Borgo San Lorenzo and the other Majesty of the Virgin, from San Giorgio alla Costa, documenting the time when the young Giotto was active between the cities of Florence and Assisi. Then the Altarpiece of the Maggiore Altar of Badia. The table with the Eternal Father on the throne coming from the Scrovegni Chapel that evidenced the path of the master in Padua.
This is followed by the two-faced Altarpiece of Santa Reparata, intended for the cathedral of Florence and the Stefaneschi Triptych, the masterpiece painted for the high altar of St. Peter's Basilica. The exhibition itinerary ends with the paintings of the final phase of the long career of the master: The Altarpiece of Bologna, which Giotto painted in the context of coming back in Bologna of the papal court from Avignon, and the polyptych Baroncelli, from the homonymous chapel of Santa Croce in Florence, that on the occasion of the exhibition will be reunited with its spire, depicting the Eternal Father (preserved in the museum of San Diego, California).
Giotto from Bondone was born in Vespignano in 1267 c.a  into a family of peasants who moved to Florence shortly after the birth. The young Giotto entered the workshop of Cenni di Pepo, known as Cimabue, with whom he went to Rome where he met Arnolfo Di Cambio and Pietro Cavallini.
He died in Florence the 8 January 1337 while he was working as master builder at the construction of the majestic bell tower of Santa Maria del Fiore, which at that time was a third of the work that we can admire today.
Opening hours: Monday from 14.30 to 19.30; Tuesday to Sunday from 9:30 to 19:30. Thursday and Saturday extended opening hours until 22.30 (last admission one hour before closing).
Tickets: € 11; reduced € 9.50; Special reduced € 5.50.
Family: 1 or 2 adults + children (6 to 14 years), € 9.50 adult and € 5.50 child.
Orari: lunedì dalle 14.30 alle 19.30; da martedì a domenica dalle 9.30 alle 19.30. Giovedì e sabato apertura prolungata fino alle 22.30 (ultimo ingresso un'ora prima della chiusura).
Biglietti: € 11; ridotto € 9.50; ridotto speciale € 5.50..